Endotoxin Analysis
Endotoxins are highly pyrogenic bacterial structural components that can trigger immune responses. Because of its toxic effect, endotoxin testing is a fundamental safety requirement in the biomedical field. Ocean TuniCell AS offers endotoxin analysis via the PyroGeneTM Recombinant Factor C Endpoint Fluorescent Assay, a sustainable method that allows endotoxin detection in the range from 0.005 to 5 EU/ml.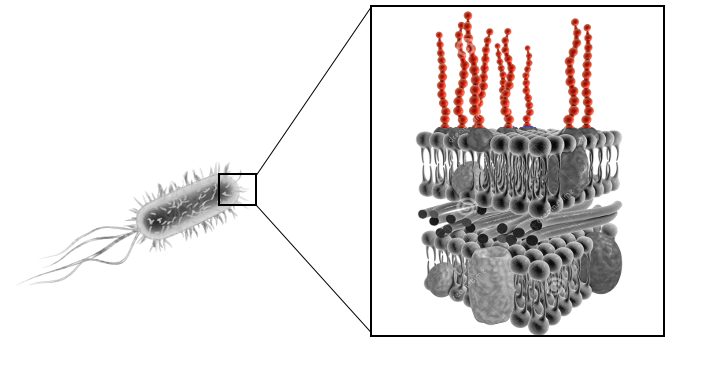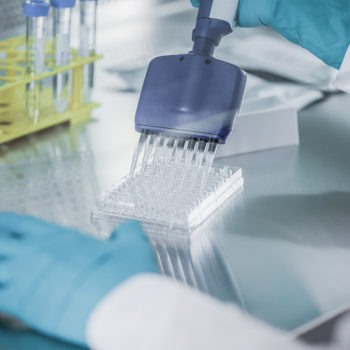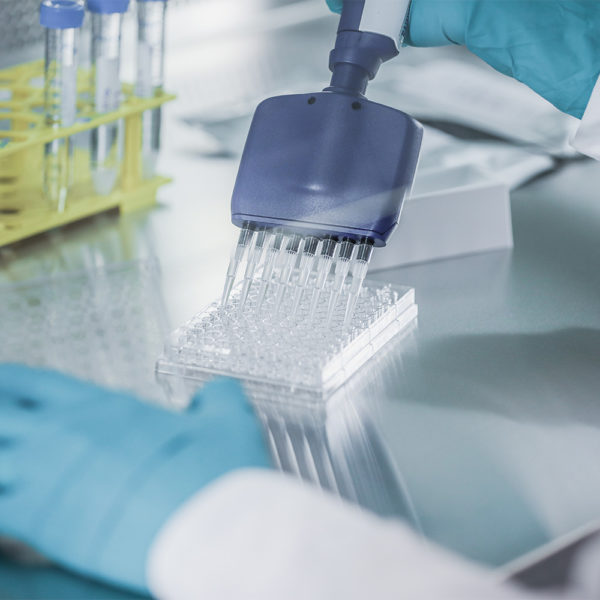 PyroGeneTM Recombinant Factor C Endpoint Fluorescent Assay
Factor C is the first component in the horseshoe crab clotting cascade and it is activated by trace levels of endotoxin. rFC is activated by endotoxin binding and the active enzyme cleaves a fluorogenic substrate, resulting in fluorescence.
Ocean TuniCell AS uses rFC technology due to more reliable lot-to-lot performance, robustness in comparison to other methods, and because it eliminates false-positive glucan reactions. It is also more sustainable than the LAL assay as it spares the use of horse-shoe crabs, contributing to their conservation.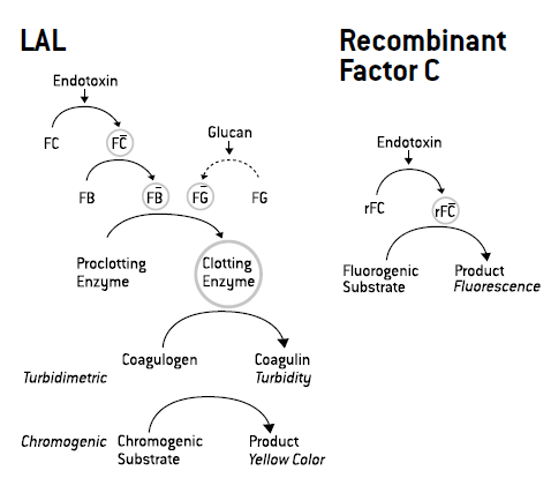 United States Pharmacopoeia (USP)
Considered an 'alternative test' subject to the validation requirements of USP <1225> or ICH Q2B. Results with the rFC are accepted by regulatory authorities but a validation study must be performed to compare the alternative and compendial method.

Chinese Pharmacopoeia (ChP)
In Jan 2019, recombinant Factor C (rFC) has been listed and described as a new compendia method for bacterial endotoxin testing in the Chinese Pharmacopeia.
Sample characteristics: The test is performed in a solution. Samples should be diluted/extracted in endotoxin-free water or buffer, in endotoxin-free tubes. Any buffers used must be compatible with the assay. Dispersions interfere with the assay and will give invalid results. For more advice on sample preparation; please read "Advice for samples preparation. PyroGeneTM Recombinant Factor C Endotoxin Detection Assay, Lonza (2019)".
Volume and container: 1-2 ml in a sealed endotoxin-free container (samples are run in duplicates). It has been shown that endotoxin can adsorb to certain plastic materials thus interfering with recovery efficiency. Glass or polystyrene containers are suggested as preferable containers for endotoxin assays due to their high recovery and stability of endotoxins over time.
Minimum order: minimum of 5 samples per submission. For less than 5 samples, please contact us for a quote.
Controls: Please provide a sample of the water or buffer used to prepare the samples as a negative control. We include a positive product control (PPC), also called spike recovery, for each sample. The PPC demonstrates that the test sample does not interfere with the ability to detect endotoxins.
Price for analysis is 149 USD per sample with a minimum of 5 samples per submission. We recommend to provide one sample of your diluent when applicable.
For less than 5 samples, please contact us for a quote.
Ocean TuniCell AS warrants that both the equipment (PyroWave™ XM Fluorescence Reader, Lonza) and kit (PyroGene ™ Recombinant Factor C Assay, Lonza) used for this service are certified and validated to follow the required quality standards for endotoxin testing. Ocean TuniCell AS is not responsible for inhibitors or contaminants in the assay derived from the samples, customer's consumables and/or the buffers sent for analysis. Tests for inhibition can be conducted on request.
Ocean TuniCell AS follows the European Pharmacopoeia guidelines. Although the company makes efforts to help customers understand how the endotoxin analysis is regulated in other countries, they make no warranties as to the accuracy or completeness of the information provided on section 'Regulatory aspect'. This section should be used as a basic guideline and it is the customer's responsibility to ensure that they are following the regulations and pharmacopoeias of countries of interest.
The results provided in the Certificate of Analysis (CoA) certifies the endotoxin values for the product analysed. It does not certify overall customer product safety or approval for intended final use.