TUNICELL Medical Grade Cellulose Nanofibrils, 2.5 % in Cell Grade, Pyrogen Free Water
Volume: 6 ml (2 x 3 ml syringes).
Sterilized
Expiration: 6-month shelf life
Storage conditions: 4 – 15 °C
Never freeze
For research use only
Ocean TuniCell AS has developed a tunicate nanocellulose product, TUNICELL, produced from a sustainable marine resource harvested on the west coast of Norway. We extract and process to > 99 % pure cellulose, free of contaminating hemicelluloses and lignin. This is then used to produce our ultrapure TUNICELL, with endotoxin values ≤ 0.5 EU/ml and bioburden < 10 CFU/ml.
TUNICELL can be produced according to customer specifications at a range of concentrations up to 2.5 % nanocellulose in a dispersion.
TUNICELL is produced according to ISO standards towards cGMP accreditation.
TUNICELL specifications

| | |
| --- | --- |
| Degree of Polymerization | 3900 - 4200 |
| Crystallinity index | 89.07 ± 1.60 % |
| Width | 8.55 ± 3.37 nm |
| Length | 2519 ± 827 nm |
| Aspect ratio | 296 ± 97 |
| Viscosity (Pa·s) | 96.37 ± 0.05 |
| Degradation onset temperature | 325 ˚C |
| Degradation peak temperature | 359 ˚C |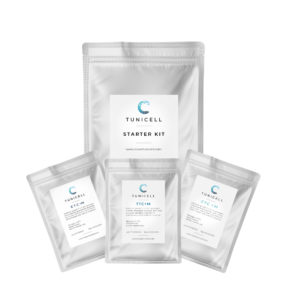 9 ml Medical Grade nanocellulose fibrils
Order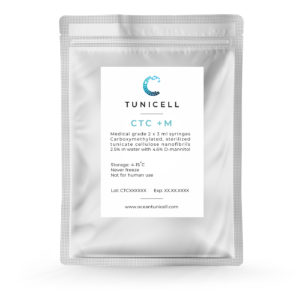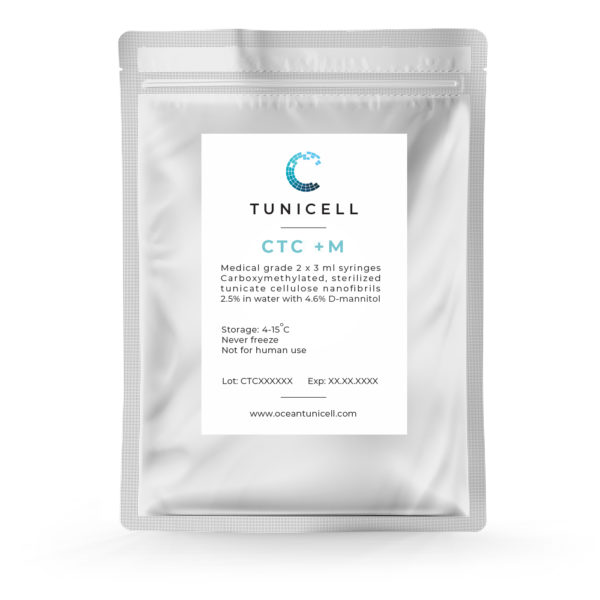 6 ml Medical Grade Cellulose Nanofibrils
Order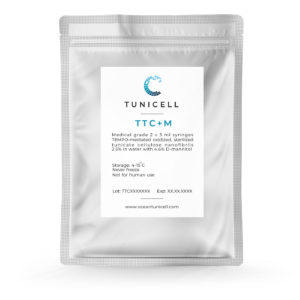 6 ml Medical Grade Cellulose Nanofibrils
Order